Hi! Today I'm coming at you with another book tag. I was tagged over at the lovely headinthecloudsheartinthebooks, which alerted me to this tag that I had never heard of before but I'm so glad I did so thank you Tasha! Sorry that I go to it so late but rather late than never and sorry for the late post in general, I'm just making the most of this weather in Britain before school starts and the weather goes back to normal.
---
1. A Book That Kept You Up All Night Reading | The Kiss by Lucy Courtenay
This book was j
ust so addictive that I had to get to the end of it ASAP! This author really knows how to string a reader along because every time I got to the end of a chapter, instead of putting it down I just wanted to read just ONE more chapter, I had to make sure that I had finished this book.
2. A Book That Made You Scared To Sleep | Horrorstor by Grady Hendrix
It was so subtle
 with the elements of horror slowly taking over the book while I read on with extinguished enthusiasm… BAM! It hit me that I was in a dark room – with my two sisters asleep – at 2 am, all alone. How's that for over dramatic horror, it's a tad bit cliché but I had to take an opportunity, just read that in an American weatherman voice and you'll be fine.
3. A Book That Made You Go To Sleep | The Shock of the Fall by Nathan Filer
Due to
all the hype surrounding this book, I picked it up to see whether it was everything everyone said it was. This book was really good, in the beginning and then just went downhill from there.It slowly just lost structure and form, but I was determined to follow through on it and hoped that there could be something to salvage from the ending. I do not regret reading it because of the insight it gave me into mental illness but it is just it is also just another reason why you should not succumb to hype.
4. A Book series That has Left You Tossing and Turning All Night in Anticipation of its next Release | Queen of Shadows by Sarah J Maas
I just want
this book to be released so that I have an excuse to marathon the books that are out and be up to date with this series because I have only read The Assassins Blade and the Throne of Glass. I also feel that I need to read some fantasy as I have been essentially been reading contemporary since summer began. It's a wonder that I haven't been spoiled for the rest of the books so I need Queen of Shadows to come out before I do get spoiled. I'm just jinxing myself now, am I right?
5. A Book That Has Your Dream Boyfriend | 
6. A Book That Would Be Your Worst Nightmare to Live In | Acid by Emma Pass
I love m
y freedom of speech and to have that taken away would be well, problematic. In this world everything and I mean everything has to be run by ACID which is essentially a dictatorship that rules strictly and with no compassion.
7. A Book That Reminds You of Night time |  Twilight by Stephenie Meyer
Hello, twi
light. Says it in the name and the fact that this book is about vampires who are technically creatures of the night.
8. A Book That Had a Nightmarish Cliffhanger 
This doesn't really happen to me because I don't read much series that are in progress, I just marathon through finished series so if there are major cliffhangers then I can just read the next book immediately! If I do come across a nightmarish cliffhanger then I often times forget about it in a couple of weeks and I just rant/do non productive stuff on tumblr to alleviate my anger/frustration.
9. A Book That You Actually Dreamed About | The Night Circus by Erin Morgenstern
I read this bo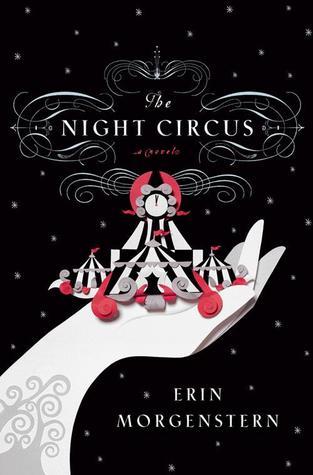 ok in one sitting which meant that I ended up reading this late into the night. When I finally finished this book at 1 am in the night on a school day (I'm such a rebel right?) that it was inevitable that I would end up dreaming about this wonderful world that I had immersed myself in the last couple of hours prior to sleeping.
10. A Book Monster that You Would Not Want to Find Under Your Bed | The  Book Thief by Marcus Zusak
DEATH, I d
o not want to find death under my bed but that is highly unlikely as death is all around us. It sound pretty grim but this question is really grim. On top of that, who has seen a pure physical manifestation of death; although you could say that a vehicle, theme park ride or large quantity of water as physical manifestation of different possibilities of death but what do I know?
---
I tag…
Analee @ Book Snacks
Raven @ Dreamy Addictions
Nicole @ Nymphadora Winterfell
Valerie @ Little Dutch Bookshop
Josie @ Josie's Book Corner
Kelsey @ Don't Shush Me!